Discover more from The Dog and Pony Show
News, gossip and other ruminations on Tennessee politics and events
Over 1,000 subscribers
No. 4: Lee's Staff Is Breaking the Law
But good luck getting them to answer questions about it!
I'm going to keep this short and sweet: Gov. Bill Lee's administration is using phone apps that have a deleting text option to get around the state's open records laws. And I know this for a fact.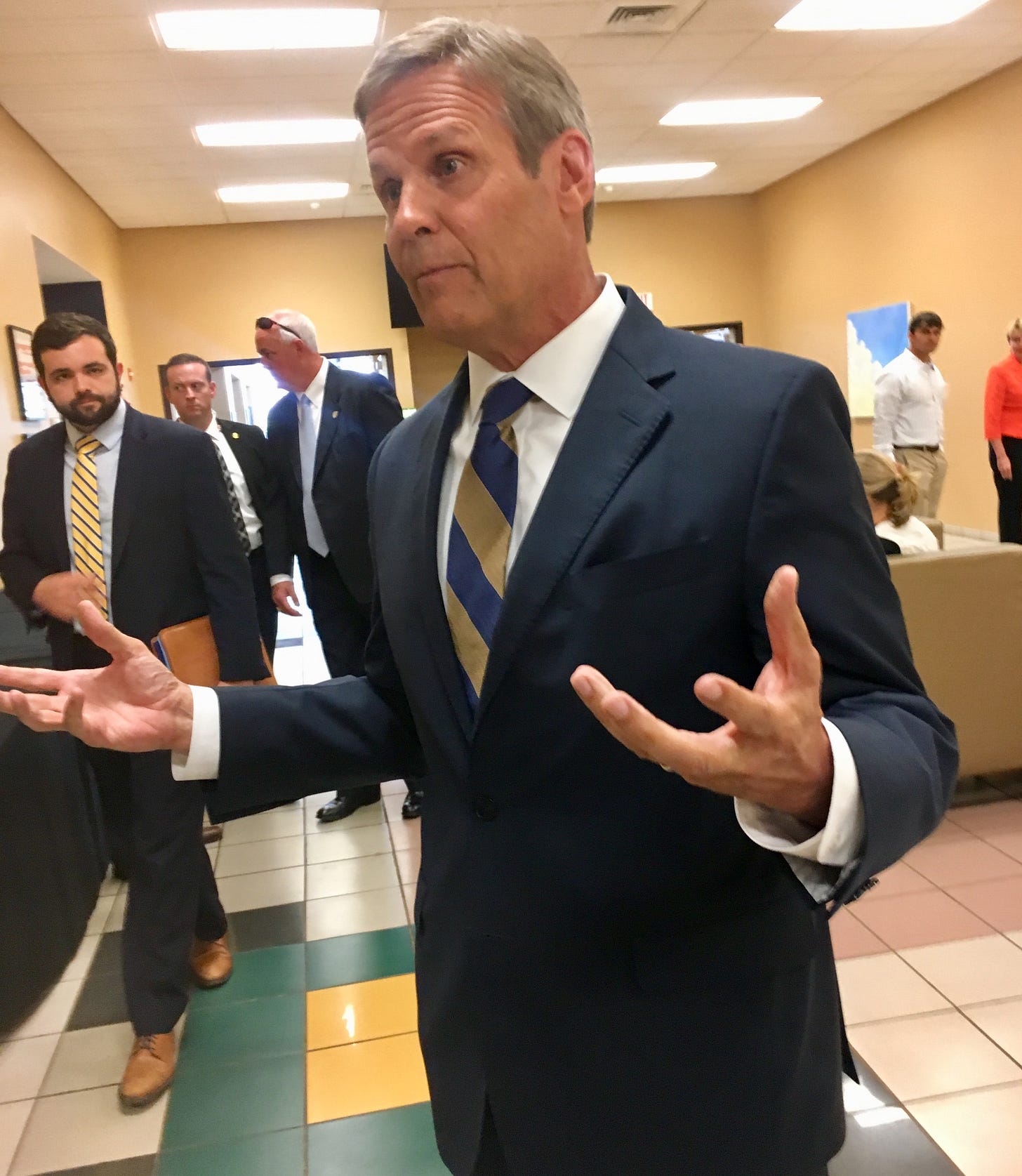 I do not know if everyone on his staff is doing this, but I do know many of them are on Confide, for one. There's nothing wrong with that in theory — sending self-deleting tips to reporters is a standard communication practice these days. But per several sources, Lee's staff is regularly communicating with each other about work matters on Confide or one of several similar apps. And that is not permitted, per state law.
I know that some members of Bill Haslam's staff did the same thing. And I know that use of similar apps in the Tennessee Department of Corrections has been flagrantly in violation of the law for years. But that still doesn't make it ok.
I tried to ask Lee about this today during a public press availability. The first time I tried to ask the question, his press secretary, Laine Arnold, cut me off and literally directed Chattanooga Times Free Press reporter Mike Pare to talk over me. (This has happened to me at every press avail I've attended since Lee was sworn into office. And this almost never happened with Haslam's staff, no matter how annoying they found my questions.)
Here's the transcript, with notes, since I don't have a video:
Questions are asked about Volkswagen and unionization.

Me: Your administration and your communications staff —

Arnold cuts me off and tells Pare to ask more questions. Then she declares the avail over after three whole minutes. I attempt to persist.

Me: Your staff is breaking the open records law by using self-deleting apps — do you have an issue with that?

Arnold: Cari, the media availability is finished.

Me (walking with them as they attempt to leave the building): Breaking the law? No issue with that? I know you're using them, Laine. Do y'all not have a comment?

Laine: Cari, the media availability is finished.

Me: So y'all are cool with breaking the law?

They walk out of the building.
That entire exchange lasted under 30 seconds, for the record. And I have repeatedly tried to ask communications director Chris Walker about the issue over the past two weeks with no response.
But, then, that's not surprising either — because Walker has been telling communications staff in at least three state agencies, if not all of them, to ignore and not respond to emails and possibly records requests from persons they have designated as not worth their time. This doesn't just include me, it's also people affiliated with the ultra-conservative Tennessee Star, which was definitely very pro-Lee in election season. And if this is their policy regarding reporters they don't like, what happens when it's a member of the general public seeking information?
Transparency, my ass.
***
Reminder: I'm on Venmo @cgervin until subscriptions start (in July!) if you want to help fund this reporting. More importantly, if you want to throw the reporting kind of tips my way, then you can reply to this email, DM me on Twitter, or message me on Signal or Confide.
More news tomorrow! (But it has nothing to do with Lee.)